Hugel Beds
Ask us any questions about this item and we will get back to you withing 1 day of receipt....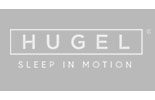 Hugel have perfected the recipe for a great night's sleep, using traditional techniques and sourcing the finest materials.
Your sleep matters, the Hugel collection embraces the best of British manufacturing with innovative technology and luxurious design
From sitting up to read and relax to chilling out in Zero Gravity mode to ease tension and back pain, there are so many benefits of a Hugel bed…
DISCOVER WEIGHTLESSNESS: Experience true comfort with zero-gravity. The pre-programmed feature which gently elevates your back and legs to simulate weightlessness. Designed by experts, ZG allows your body to fully relax and restore for quality sleep.
PERSONALISED COMFORT: Adjust your Hugel bed to suit you. Choose from a variety of sleeping and sitting positions and save your favourites using the wireless handset for guaranteed comfort every time.
UNDISTURBED SLEEP: Enjoy a peaceful night's sleep again thanks to anti-snore technology. The subtle sleeping position that gently elevates the head to reduce gravitational pull on your airways to reduce snoring. For couples, a Hugel bed is a must. Anti-Snore mode slightly elevates the head, reducing gravitational pull on your airways to reduce snoring. Dual zone mattresses also minimise disturbance should one of you get up in the night.
RELAXING MASSAGE: Lay back and unwind with a gentle massage. Choose from pulse and wave mode and enjoy a soothing back and leg massage, letting your body recover and revive your muscles.
For more information about Hugel Beds please contact Rosevears and call in store to see our display of Hugel Beds…